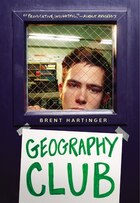 I've been wanting to read The Geography Club by Brent Hartinger for awhile. It's YA, GLBT and it's gotten good reviews. Unfortunately that whole not being part of a kick-ass library system for a year delayed it (*if* I ever move again I'm making sure I move someplace with a good library system, but I really hope not to do a big relocation again well...ever).
When I went to the library the other day it was actually on the shelf - I didn't even have to request it. Score! So I picked it up and it turned out to be a pretty fast read. And it was good.
Russel Middlebrook is your average high schooler trying to navigate the often treacherous waters of high school popularity. Not a popular kid and not an outcast he's doing pretty well. But there is one thing that makes him different - he's gay. And no one knows.
At least not at first. But then he meets someone from his high school in an online gay chatroom. When they meet it turns out to be a popular boy...and a jock! Feeling a bit emboldened by this Russel comes out to one of his longest friends Min and it turns out that she's bisexual and had a girlfriend that also goes to their school. Min's girlfriend knows another gay guy that goes to their school too. The meet at a pizza place one night and bond over their secret lives. They decide to start a club at school - but not a gay-straight alliance. No one wants to be outed. So they start a club that they think is so boring no one else would want to join - a geography club.
I thought that the book was well done overall. My one and only complaint is where the heck were the parents? They weren't even mentioned. I know that in high school (especially in a small town high school) being outed at school to your friends (and enemies) ranks really high up there for an in-the-closet GLBT teen. But most books also address the parent issue. Will they approve? Will they kick them out of the house if they find out? As much as teens may think that their parents are uncool and a pain in the ass they are still their parents and play a huge part in the teen years. To me it was a big hole in the story but don't let that dissuade you - it's a good book. And short (would have been good for the read-a-thon that I missed).