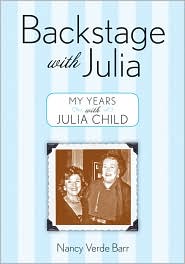 I've made no secret that I love food-lit. Perhaps someday when I'm feeling ambitious (read "bored" or "procrastinating") I'll add a food-lit category here. I've certainly read enough.
I don't know many people who don't like Julia Child. I have, unfortunately, only vague memories of watching her television show on weekday mornings when I was a kid but it's hard not to forget that voice and the fun that she had in the kitchen. I've read her
My Life in France
and the
Julie and Julia
project (unfortunately not when it was a blog and yes, I am looking forward to the movie). So when I was perusing the library shelves at my (new!) local branch and happened upon Nancy Verde Barr's
Backstage with Julia
I knew it had to go home with me.
Barr worked closely with Julia for over twenty years. They came together for the first time at a local demonstration and the next thing Barr knew she was being asked to join Julia's team. You may now all turn green with envy.
But not only did Barr work with Julia, they became close friends. They travelled together, worked together, played together. In
Backstage with Julia
you get an inside glimpse of the fun and mischevious person that we all believe Julia to be.
I enjoyed this. It was fun, light and serious all in one. And a must read for Julia fans.
I have another Julia-related book in the stacks waiting to be read - Judith Jones' (who is also mentioned in
Backstage with Julia
)
The Tenth Muse
. Goodness knows when I'll actually get around to reading it but with any luck with it will be sooner rather than later. :)