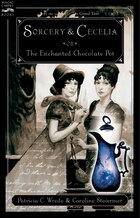 Heyer fans take note: you may want to pick up this novel.
Sorcery and Cecelia (or The Enchanted Chocolate Pot)
by Patricia C. Wrede and Caroline Stevermer is a bit like a Georgette Heyer with a touch of magic and told through the letter of two girls you'd really like to have as friends.
Kate and Cecelia are cousins and the best of friends. When Kate goes off to London for her first season with her younger beautiful sister Georgy, Cece has to stay at home. In London Kate has to deal with a witch that she thinks tried to kill her and a Mysterious Marquis who is turning out to be less and less of a stranger but just as mysterious. That is, of course, between balls and outings. Back home Cece is making charm bags, "borrowing" magic books from a prominent wizard's office, and befriending a new pretty girl in the neighbourhood. But there seems to a man that's following her. What's that all about? And Oliver, Cece's brother who is head over heels for Georgy, is acting weird and then goes and gets himself turned into a tree. And could there be a bit of romance for both Cece and Kate?
One of the most fun things about this book was reading how it was written. It started off as a game between the two writers where they exchanged letters. It was just a game for fun and in the end they realized they had a book! I'm looking forward to reading the two sequels.
This was a selection for the Once Upon a Time II Challenge. :)