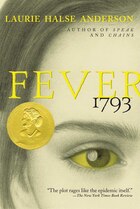 First of all, I love how the cover of
Fever 1793
kind of makes it look like it's all space-agey when it's actually, as the title indicates, a historical.
Maddie Cook, her mother and grandfather run a coffee house in Philadelphia with the help of their cook Eliza, a free black woman. They are not well off (Mattie's mother grew up in "society") but do ok. And then the fever hits. The first causality we see is their serving girl, Polly. The fever spreads, slowly at first, then rapidly. People leave the city or lock themselves in their homes. But as the fever spreads Mattie and her family are not immune.
I'm all mixed up about Fever, 1793. I've loved the other books by Laurie Halse Anderson that I've read and I'm having a hard time reconciling them with this one. Yes, she is writing for a slightly younger group here. But, and this is no fault of the book itself, this book was shelved in the YA section of my library, not the children's section. Until yesterday I didn't even know there was a YA section. I'm thinking that it's because of her other books that this was shelved there because it's really a 9-12 read, not a teen read, even though it does deal with death. And I think the shelving thing is what really through me off. I was expecting something more from this - something older I suppose. Something with more depth. This was ok but more shallow than I was expecting.
(An aside: The English YA section at my current library is pathetically small...about 8 shelves. And it's a big library, not a small local branch. The French section is close to 8 full cases. C'est la vie quebecoise...but I am happy to see there is that much in French. The English YA was pretty pitiful - Laurie Halse Anderson, MT Anderson and Sarah Dessen aside. I'm hoping that there's a LOT checked out and that's why the selection looked so dismal.)