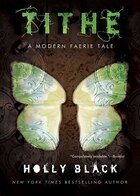 You know what's worse than reading a book and then not blogging about it? Reading a book a month ago, not blogging about it, lending it out to a friend, and then trying to blog about it.
So let's see what I remember about Tithe. Right...Kaye thinks she's a normal teenage girl with your standard screwed up mom who wants to be a rock star and is unsuccessful so they end up living in her grandmother's house.
But it turns out she's actually a pixy (green skin and all) and gets stuck between the human world and the faerie world. And gets stuck in the middle of two warring faerie kingdoms. Lucky her.
Did you know that not all faeries are nice? And that some of them are, in fact, mean and cruel?
Didn't love it. Didn't hate it. Doesn't feel like it should be a stand alone book. Amazon says it's part of the "Modern Faerie Series" but I got the impression that
Valient
isn't so much a sequel to
Tithe
as another book set in the same world. It's on my TBR pile so I'll get to it sometime.